Quality Auto Glass Replacements
Auto Glass is a Safety Feature

Many people only look for the lowest price when they shop for auto glass. The fact is that the auto glass in your vehicle does more than just keep out the wind and rain; it also is a key safety component. The windshield and other windows in your vehicle ensure proper airbag deployment, keep you and your passengers safe from road debris, and even help prevent the roof from caving in during an unfortunate roll-over accident.
A Commitment To Quality
Not all glass shops are equal. There are varying qualities of glass, and levels of installation quality. An improperly installed windshield is virtually useless at protecting you during an accident. That's why it's very important to choose a reputable glass shop with experienced installers. Since 1991, Glass Works has been committed to providing the highest quality of workmanship, parts, and customer service in the Tulsa area. Our trained technicians meet a set of criteria developed to ensure both safe and quality auto glass replacement and repairs.
Know you're vehicle is in good hands when you bring it to Glass Works Auto Glass. Since 1991, our customers are treated with the same respect and service as the Dealers and Body Shops that we service: providing high quality, competitive pricing, and prompt service.
Don't trust your vehicle to just any auto glass shop. All the high-quality materials in the world won't make up for an auto glass installer who doesn't have experience and training. Today's vehicles require slightly different techniques when installing the auto glass than they did just 10 years ago. The new technology that goes into these cars, their designs, electronics, rain sensors, etc, all make the windshield or other auto glass installation, much more complex than in the past. When it comes to your next auto glass replacement or windshield repair, trust the same experts the Dealers trust: Glass Works Auto Glass.
Know Your Rights
You have the right to choose which auto glass shop replaces your glass. Some insurance companies may try to get you to go to one of their "preferred shops" (a practice known as "Job Steering") rather than encouraging you to choose the shop you'd like. Job steering is not only illegal, but it usually is a recipe for a bad experience for the vehicle owner. When glass shops get work from job steering, their goal is to keep the customer happy, which in these cases is the insurance company.
More Than Just a Cracked Windshield!
Why is a cracked (or improperly installed) windshield dangerous?

1. Your windshield prevents you from being ejected during an accident.
The safest place to be during a car accident is in the car. Your windshield is an important barrier that keeps you in the car. If you don't replace your windshield, a cracked windshield (or a poorly installed windshield) can fail during a collision or roll over, allowing you or your passenger to be ejected. A passenger ejected from a car or truck is much more likely to experience a serious injury or death. Cracked windshields expose the laminate that joins the layers of glass in the windshield, resulting in delamination. It is this delamination that results in a dangerous reduction in the structural integrity of a vehicle.

2. Your windshield is a "backstop" for your passenger side air bags.
In nearly all new vehicles equipped with airbags, the passenger side airbag deploys upward and bounces off the windshield glass to protect the passenger in a crash. When the airbag deploys, it does so at 150 - 200 miles per hour. Needless to say, a cracked windshield lacks the structural integrity necessary to absorb the force of a deployed airbag; the result is that passengers may be ejected and injured or killed if the airbag deployment is deformed by the windshield's failure. In addition, an improper windshield replacement that fails will subject a vehicle's occupants to the same risk of airbag failure as a cracked windshield.

3. Your windshield supports the roof.
An automobile's windshield is designed to prevent the roof from crushing you in a roll over accident. It's important to promptly replace your windshield, because a cracked windshield will not meet any of the ANSI windshield performance and safety standards. Industry experts have estimated that windshields provide up to 70% of the structural integrity in a rollover accident. A cracked windshield may fail to support the roof if the car flips over, causing severe injury or death to occupants.
At Auto Glass Center, we commit to having your vehicle back to factory specifications after we replace your windshield by using professionally trained personnel and OEM parts.


Free Mobile Service in Tulsa & Surrounding Areas
Auto Glass Repair - Auto Glass Replacement - Windshield Repair - Auto Glass Tulsa, OK - Auto Glass Quotes - Windshield Repair Tulsa, OK - Windshield Replacement Tulsa - Auto Glass - In-Shop Service - Auto Glass Mobile Service - Auto Glass – Windshields - Auto Windows - Auto Mirrors - Commercial Truck Glass - RV Glass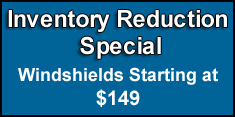 OUR LOCATION:
Glass Works Auto Glass Repair
5860 S Mingo Rd
Tulsa, OK 74146

Office Hours
Mon–Fri: 8am – 5pm
Sat: 8am – 12pm
Se Habla Español
Oklahomas Areas We Serve: