Auto Glass Replacement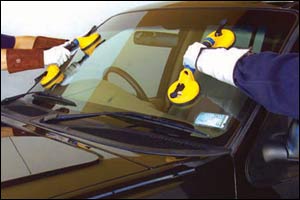 Have a broken windshield? Don't worry! Since 1991, Glass Works Auto Glass has specialized in all varieties of auto glass, including windshields. Glass Works can help you fix it!
Glass Works Auto Glass is a full service auto glass repair and replacement company. We specialize in the highest quality of auto glass installation at competitive prices, making Glass Works the best auto glass value in Tulsa. We service all makes and models and are ready to repair or replace all the glass in your vehicle. Windshield, door glass, back glass, vent glass, quarter glass, or just need a windshield repair, Glass Works can help.  Whether you want top of the line or the most economical auto glass, with 1000's of auto glass parts available, we have what you need. When you are considering what type of glass, there are three different kinds: original manufactured, OE dealer and after-market auto glass. We can help you decide what the best choice is for you.

Our glass shop offers the most respectable quality workmanship for all vehicles.


When Glass Works replaces your auto glass:
Your windshield / auto glass will be replaced using the highest standard in the auto glass replacement industry.
Certified Installers will replace your auto glass.
Free Mobile Service to your home or work - Hassle Free & On Time
Same Day Service
Lifetime Warranty on all auto glass and windshield replacements.
Free vacuum service.  We will clean up the broken auto glass in your car or truck.
We will provide you with hassle free assistance with your insurance claim.

Stop, don't drive with a cracked or broken windshield.

Did you know that your windshield provides up to 70% of the support that keeps your roof from collapsing in a roll over and it helps your air bags deploy properly in an accident?
You can feel safe when choosing Glass Works Auto Glass.

Glass Works certified technicians are professionally trained to properly follow all standards and procedures set forth by the Federal Government.

We have chosen the highest quality products to insure a proper and safe installion of your new auto glass. When we replace a windshield we use an adhesive that properly and safely bonds your windshield to your vehicle.  You can drive away safely and be confident of your family's safety.  All replacements come with our Lifetime Warranty.

Glass Works Auto Glass will handle all of the insurance paperwork, assist you with setting up a claim and direct bill your insurance company.  You have the legal right too choose the shop of your choice. We work with all insurance companies.

We Use Glass Providers Such as:




Free Mobile Service in Tulsa & Surrounding Areas
Auto Glass Repair - Auto Glass Replacement - Windshield Repair - Auto Glass Tulsa, OK - Auto Glass Quotes - Windshield Repair Tulsa, OK - Windshield Replacement Tulsa - Auto Glass - In-Shop Service - Auto Glass Mobile Service - Auto Glass – Windshields - Auto Windows - Auto Mirrors - Commercial Truck Glass - RV Glass


OUR LOCATION:
Glass Works Auto Glass Repair
5860 S Mingo Rd
Tulsa, OK 74146

Office Hours
Mon–Fri: 8am – 5pm
Sat: 8am – 12pm
Se Habla Español
Oklahomas Areas We Serve: