Tulsa Auto Glass Repair
Windshield chips are susceptible to spreading into larger and additional cracks as long as you continue to use the car. Even the smallest rock chips and nicks may eventually spread due to regular vehicle use, road vibrations, changes in temperature and humidity. Windshield chips or breaks that are not in driver's view and smaller than a quarter in most cases the windshield can be repaired, instead of replaced. The main purpose of the repair is to guarantee it from cracking any further and make it less visible. Anytime you get a crack or chip in your windshield, you should have Glass Works repair it right away. The longer you wait for a windshield repair, the more likely that small irritating crack will become a major issue making a full windshield replacement necessary. So don't delay; call us today! 918-610-9967




If your windshield is chipped like one of the cracks pictured above,
chances are it can be repaired instead of replaced.
Call Glass Works Auto Glass for Windshield Repair

Fast -30 minutes or less. Once the repair is completed, your car is ready to drive.
Any Vehicle: Cars, trucks, sport-utilities, and RVs.
Free to you with proper insurance. Most insurance companies will waive your deductible and reimburse you for the windshield repair at no cost to you.
Convenient mobile service to your home or office in the Tulsa & surrounding areas.
Lifetime Guarantee. It's a permanent fix and the damage won't crack further - guaranteed.
Safety restores strength, and improves optical clarity making the damage less noticeable.
Save money by repairing your windshield today and avoid the high costs associated with entire windshield replacement.
Keep your vehicle's original factory windshield seal intact.
Avoid the possibility of needing a windshield replacement later on down the road.
It's guaranteed. The windshield repair process is designed to prevent the spread of damage from the initial point of impact. Glass Works Auto Glass guarantees every windshield repair. making it less visible and preventing it from cracking any further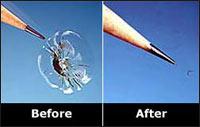 When you choose Glass Works for your vehicle's windshield crack repair, you get a cost-effective solution. Most comprehensive auto insurance plans will reimburse you for the full cost of windshield chip repair. To schedule a convenient appointment time for repair, please call Glass Works directly at: 918-610-9967.


Free Mobile Service in Tulsa & Surrounding Areas
Auto Glass Repair - Auto Glass Replacement - Windshield Repair - Auto Glass Tulsa, OK - Auto Glass Quotes - Windshield Repair Tulsa, OK - Windshield Replacement Tulsa - Auto Glass - In-Shop Service - Auto Glass Mobile Service - Auto Glass – Windshields - Auto Windows - Auto Mirrors - Commercial Truck Glass - RV Glass


OUR LOCATION:
Glass Works Auto Glass Repair
5860 S Mingo Rd
Tulsa, OK 74146

Office Hours
Mon–Fri: 8am – 5pm
Sat: 8am – 12pm
Se Habla Español
Oklahomas Areas We Serve: